Operation and further development of the Hörmann Dealers' Forums
Dedicated, closed extranets for Hörmann dealers and tradesmen
Hörmann KG needed a digital contact point where Hörmann dealers and tradesmen could obtain relevant documents and information on Hörmann products. Hörmann Dealers' Forums also function as a central system, which directs users to the various third-party systems based on their access rights.
Marketing Factory has been supporting Hörmann as a client since 2002 and has since carried out various relaunches of the international Hörmann Dealers' Forums. In the past 20 years, the Dealers' Forums have been upgraded iteratively from TYPO3 version 4.5 to TYPO3 version 8.7.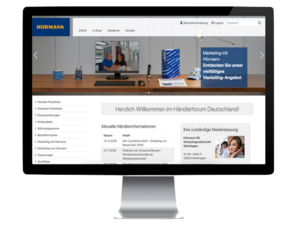 | | |
| --- | --- |
| Client | Hörmann KG |
| Project duration | 2002–today |
Discover the project from the perspective of:
CMS-Technologies
TYPO3 quickly emerged as the content management system of choice, as its extensive content management functionalities, the integrated file management system and the open APIs made it ideal for Hörmann's purposes. Editors can create content easily and without programming knowledge in the backend, add to it or have it hidden at certain times, as well as centrally manage data sheets and brochures in the file admin for all country versions.
The Hörmann Dealers' Forums currently exist in two TYPO3 installations in 13 country versions and partly in multiple languages.
The Hörmann Dealers' Forums Classic are currently running on the basis of TYPO3 in version 7.6 and version 8.7 in the ELTS.
CMS-Technologies
The Hörmann Dealers' Forums act as a central contact point for Hörmann dealers and craftsmen and forward them to various third-party systems from Hörmann. Due to the open architecture of TYPO3, the connection of any third-party system such as LDAP, WSO2, SAP CDC or Hörmann-specific offer and order systems can be carried out without any problems.
Since all content and redirects to these third-party systems are linked to extensive user role concepts, Marketing Factory developed a number of individual extensions and plugins to carry out the redirects based on the user's user role.
Shop-Technologies
A number of shop functionalities were required for the Dealers' Forums in Germany, Austria and Switzerland, which were implemented using the commerce extension. Hörmann dealers and craftsmen can use commerce to purchase brochures, work clothing and advertising material directly from Hörmann.
Shop-Technologies
The TYPO3 extension commerce was used to create the shop functionalities in the Hörmann Dealers' Forums in Germany, Austria and Switzerland. commerce offers extensive options for data and customer data maintenance directly in the TYPO3 backend. Editors can easily create new products, expand existing ones or define new categories without having to leave the TYPO3 backend.
Search-Technologies
A high-performance search is essential so that Hörmann dealers and craftsmen can find the documents they need in the Dealers' Forum as quickly as possible. For the on-site search, we therefore use the search indexed_search.
User-Authentication
The Hörmann Dealers' Forums were linked to three different authentication methods in order to meet country-specific requirements. The following protocols and systems are currently involved: SAP CDC, WSO2 and LDAP.