Custom Solutions for pfm medical ag
Apart from several larger projects, Marketing Factory has also completed a number of smaller solutions and concepts tailored specifically to the client's needs. This demonstrates once again the benefit of open-source systems, which enable us to meet such varied and custom-designed requirements.
Here are brief details of just a few interesting projects.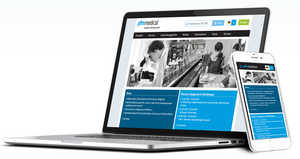 In 2021, we added a Download Centre to pfm medical's corporate websites. Its focus is to provide medically relevant documents, including product brochures, instructions for use (IFUs,) and patient information. Within the individual categories, the Download Centre provides different filter options, as well as two contact options to request print versions of the assets or their previous versions.
The challenge of this project was to align the Download Centre itself and the underlying processes and maintenance of the assets to the regulatory requirements of the MDR (Medical Device Regulation).
Careers section: relaunch and integration of Umantis
The Careers section of the German pfm medical website was relaunched in 2019. We developed a new layout working closely with an external design agency. The aim was to make the Careers section more interactive, among other things by using different customised elements.
We also wanted to add an applicant portal and create job advertisements using a Umantis iFrame.
Interactive heart animation
The heart illustration is based on a vector graphic with animated highlighting of the parts of the heart and possible heart defects. A plug-in links it in the backend along with links to pages detailing the various heart defects. It was set up as a fluid template with SVG partials.
"Hero Image" photo: Phalinn Ooi (phalinn) / Flickr
"pfm medical-Devices" photo: © Karoline Steinfatt / Marketing Factory Consulting GmbH
"pfm medical website" photo: © Julia Nolden / Marketing Factory Consulting GmbH